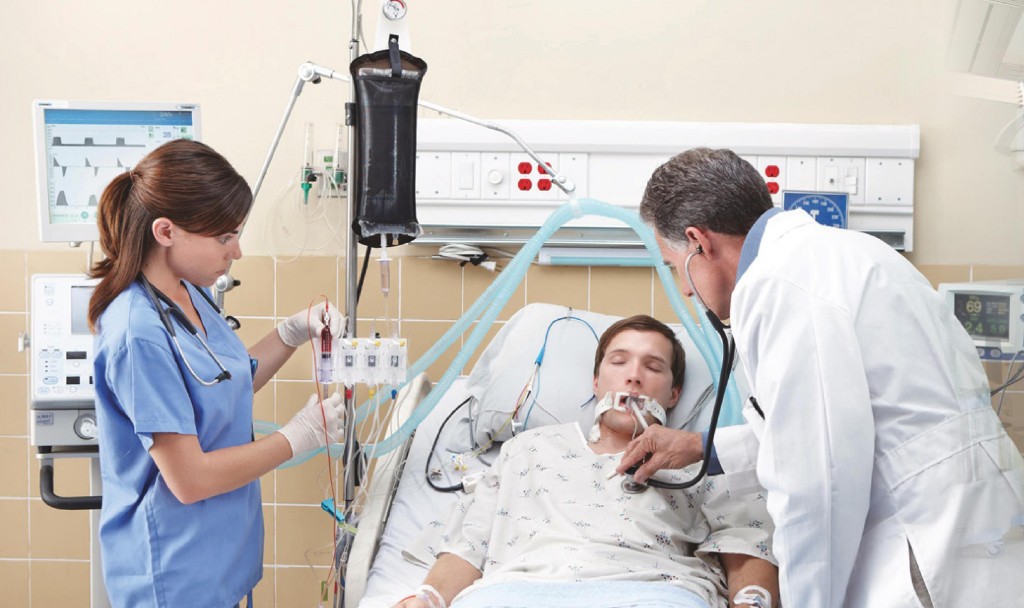 "These are our sickest patients. We're giving them sedatives but we aren't monitoring sedation"
Emery Brown, MD, PhD, Professor of Anaesthesia Harvard Medical School/ MGH, Professor of Computational Neuroscience MIT
Sedated Patients on Ventilators
The Intensive Care Unit (ICU) houses the most critically ill patients in the hospital setting.  Due to the life threatening nature of critical illness, patients in the ICU may be in physical and psychological pain.  Mechanical ventilation, IV medication, constant monitoring of vital signs and the overall noise in the ICU can lead to sleep deprivation and agitation in ICU patients.  ICU stays in the United States total about 18 million days per year and this number is expected to rise due to the aging population. (US Dept HHS, 34)
Managing Sedation Improves ICU Performance
The use of sedation in ICU patients is an important strategy used by clinicians to reduce pain and anxiety, facilitate treatment and improve patient outcomes.  However, as important as sedation is to the ICU patient, there are no validated instruments to adequately measure the level of sedation.  The lack of an objective measure for sedation can result in over and under-sedation which have been shown to have negative outcomes for the ICU patient.
Meta-analysis of over 50 peer-reviewed studies shows that 40-60% of patients in the ICU are over-sedated/ medicated at great cost and medical impact. (Jackson, 15, 16 and Payen, 25)
A number of patient agitation scales have been developed and are sometimes used to assess the level of sedation in ICU patients.  These scales provide subjective information at a patient's bedside but are unable to clearly discriminate between varying levels of sedation. (Rowe, 13) The BBM system provides objective monitoring of brain stem activity and its response to sedation therapy.  This can ultimately aid clinicians in achieving an optimal level of sedation for each individual patient.
Over and under-sedation leads to significant avoidable adverse outcomes.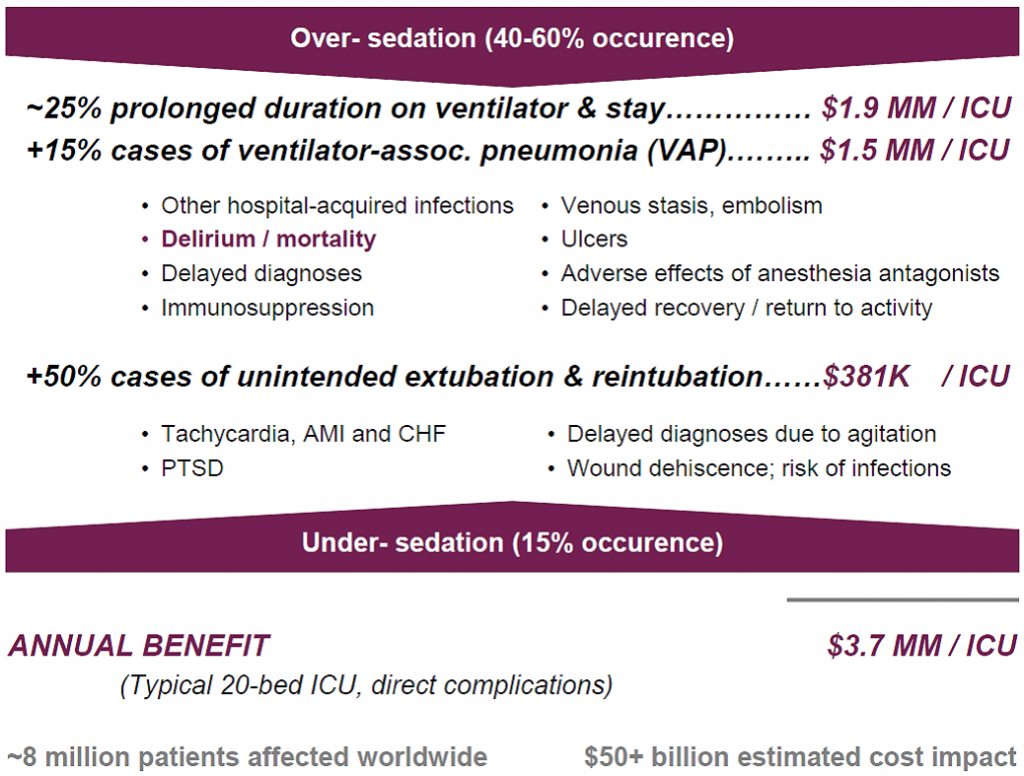 Critical care teams can set proper sedation levels for intubated patients on mechanical ventilators who today are over-medicated.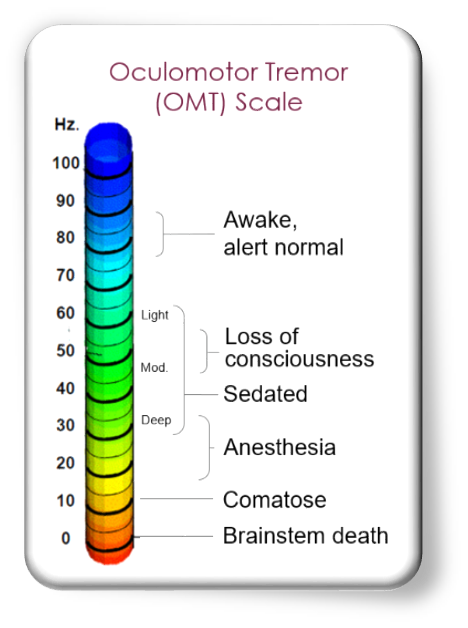 Effective Assessment Reduces Duration and Complications
The nature of illness in the ICU is very heterogeneous and patient needs can vary widely.  A patient with head trauma requires different sedation management than a patient recovering from surgery.  Targeted sedation goals for patients are difficult to achieve without an objective measurement of consciousness.  A recent study showed that there is a discrepancy between perceived versus actual sedation practices for adults on mechanical ventilation in the ICU.  Clinicians overestimated the use of Daily Sedation Interruption (DSI) as well as monitoring patients for delirium. (Gill, 17)
It is widely accepted among critical care caregivers and administrators that a reliable tool for assessing sedation levels in the ICU is in great demand.  This will allow for goal-directed sedative delivery with the ability to tailor sedation dosing optimally for each patient.
"Today we really have no way to directly assess our primary goal of achieving an appropriate level of sedation and anesthesia"-- Martin Acquadro, MD Anesthesiologist St. Elizabeth's Medical Center, Associate Clinical Professor Tufts University School of Medicine